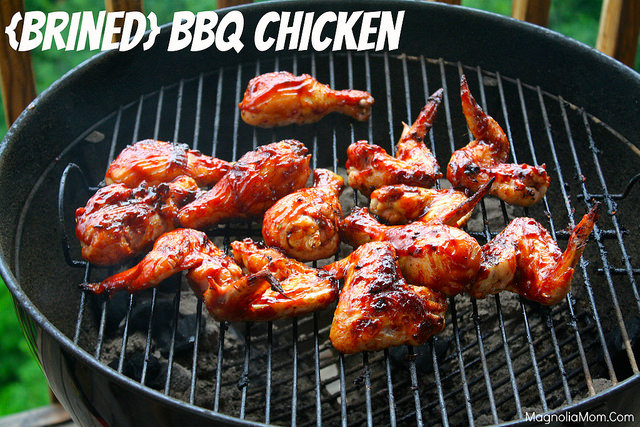 I'm a bit overwhelmed this week and just too busy to even think straight. So I didn't have a chance this past weekend to make the recipe for Tailgate Tuesday like I had hoped. I decided to share this amazing recipe for Brining BBQ Chicken. If you've never brined chicken before, I recommend you try it. Usually when we BBQ chicken on the grill, it tends to get dry and the only flavor you taste is the BBQ sauce on the skin. I really like the flavoring all the way through to the bone.
To use this for a tailgate, you would brine the chicken the night before and allow the chicken to soak in the brine for at least 5 hours.
Servings: 6-8 people
Prep Time: 20 minutes
Brine Time: 5 hours
Cooking Time: 40 minutes

Ingredients:
4 lbs. of chicken (whatever you like-I used legs and wings)
1 quart cold water
1/4 cup kosher salt
1/3 cup sugar
2 cups cherry tomatoes
3 seeded habanero or jalapeno peppers
4 cloves garlic
1/2 tsp. allspice
1/4 tsp. cayenne pepper
1/4 tsp. black pepper
1/4 tsp. cumin
1 tbs. vegetable oil
Directions:
1. Put water, kosher salt, and sugar in a saucepan and cook low heat until sugar and salt dissolve. Takes about 5 minutes. Let cool while doing Step 2.
2. Prepare chicken by scoring the skin side of each piece of chicken 2 to 3 times. I usually cut about 1/8 inch deep. Put chicken pieces in a large bowl.
3. Puree cherry tomatoes, peppers, garlic, and allspice with the salt and sugar mixture in a blender until smooth.
4. Pour tomato brine over chicken pieces, making sure all pieces are covered. Refrigerate 4 to 6 hours.
5. Clean the grate on your outdoor grill and brush with oil. Allow your grill to preheat to high heat.
6. Remove chicken pieces and place on a plate covered with with paper towels. Pat chicken pieces dry with more paper towels.
7. Combine cayenne pepper, black pepper, cumin, and oil in a small bowl.
8. Brush each chicken piece with this mixture.
9. Cook chicken with indirect method on grill until cooked all the way through. Baste while cooking with your favorite BBQ sauce.
10. Let chicken cool for about 5 minutes before serving.