For this Broccoli Cheese Soup, I used my Potato Soup as a starting point. This turned out so delicious!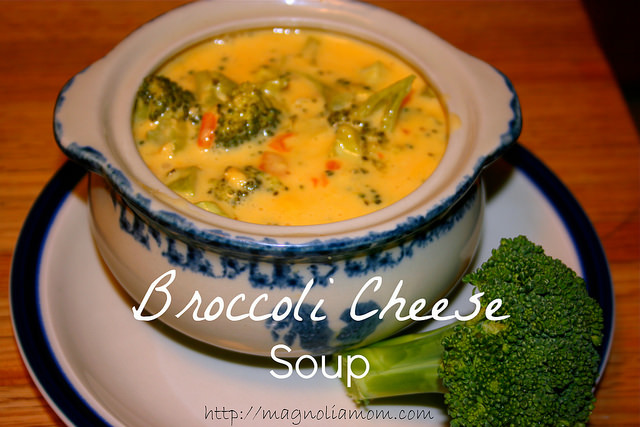 With all this cold weather, I've been making homemade soups like crazy. I made this one while Rob was away because he loathes broccoli and even just the smell of it. This was just warm and so yummy!
Servings: 10
Prep Time: 10 minutes
Cooking Time: 1-2 hours
Ingredients:
1 stick of butter
16 oz. of half and half
2 cups of low-fat milk
1 small sweet onion
Salt and freshly ground pepper to taste
1 tablespoon Paprika
1 tablespoon Garlic Powder
1 tablespoon Tabasco sauce
2 heads of broccoli
1 can of carrots
16 ounces Velveeta cheese, melted
Directions:
1. Put milk, half & half, and butter in crock pot. Turn to high.
2. Cut Velveeta cheese into small chunks and put in crock pot. (To expedite this, put in a bowl and microwave until melted.)
3. Chop carrots, onion, and broccoli.
4. When cheese and butter are completely melted add in Tabasco, garlic, and paprika.
5. Stir and add in onion and broccoli.
6. Cook for about 1 hour and then add in carrots.
7. Keep warm until ready to serve.