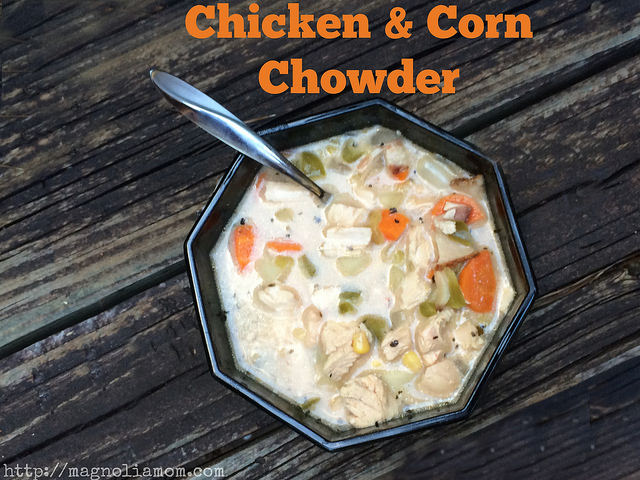 Servings: 12
Prep Time: 10 minutes
Cooking Time: 5 hours
Ingredients:
2 slices of bacon, diced
1 large onion
2 tbsp. minced garlic
1 small can of tomato paste
½ dried thyme
3 cups of low-sodium chicken broth
4-5 red potatoes (1 lb.)
1 carrot, peeled and sliced
2 bay leaves
1 ½ lbs. boneless, skinless chicken breasts
1 green bell pepper, diced
1 – 15 oz. can corn
1 – 15 oz. can creamed corn
2 tbsp. minced chipotle chile with adobo
1 tbsp. dried basil
Roux
2 cups of low-sodium chicken broth
½ cup flour
½ cup cornstarch
½ cup heavy cream

Directions:
1. Take all of the ingredients listed first (except for the roux) and put it all in the crockpot.
2. Cook on high for 4-5 hours.
3. Just before time to serve, make the roux by putting the broth in a medium sauce pan. Bring to a low simmer. Slowly add in a little flour. Continue to whisk. Add in a little cornstarch. Continue to whisk. Add in a little heavy cream. Continue to whisk.
4. Repeat this process until all ingredients for roux are in the pan.
5. Continue to whisk gently until thoroughly mixed and it is good and thick.
6. Take off heat and allow to sit for a couple of minutes.
7. Add the roux into the crockpot and stir. This should thicken up the chowder a bit.