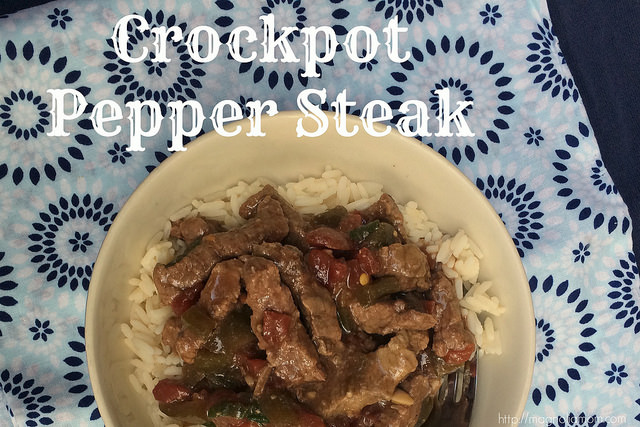 Servings: 4
Prep Time: 15 minutes
Cooking Time: 4 hours
Ingredients:
1-1 1/2 lbs boneless beef round steak
1 clove garlic minced
1/2 tsp. salt
1/4 tsp. pepper
1/4 cup soy sauce
1 tbs. hoisin sauce
1 tsp. sugar
1 tomato, seeded, peeled, & diced
2 red or green bell peppers, cut into strips
3 tbsp. cornstarch
3 tbsp. water
1 cup fresh bean sprouts
4 green onions, finely chopped
Cooked rice
Directions:
1. Trim any fat from the steak, then slice into thin strips. Add to slow cooker.
2. Then add garlic, salt, pepper, soy sauce, hoisin sauce and sugar to slow cooker.
3. Cook on low for 4 hours, then switch to high.
4. Add the diced tomatoes and sliced peppers.
5. In a small bowl, combine cornstarch and water and stir until smooth, then add to crock pot.
6. Continue cooking covered in high for 15-20 minutes, until the sauce is thickened.
7. Add bean sprouts and onion, then serve immediately.
Great over rice or Chinese noodles!
~Adapted from Mom's Budget