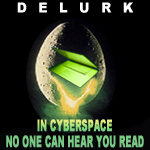 Where ever and whoever you are! I almost let today go by without posting this. I didn't realize delurking week was so early in the month.
If you're not familiar with delurking week, it just means if you're reading this you MUST swallow your pride and say HI, by commenting!
Let's see if we can beat my last year's number of delurkers, which was 23.