This Lemon Cake is so moist and packed with lemon flavor. The Cream Cheese Topping adds just enough creamy sweetness. This all has my mouth watering!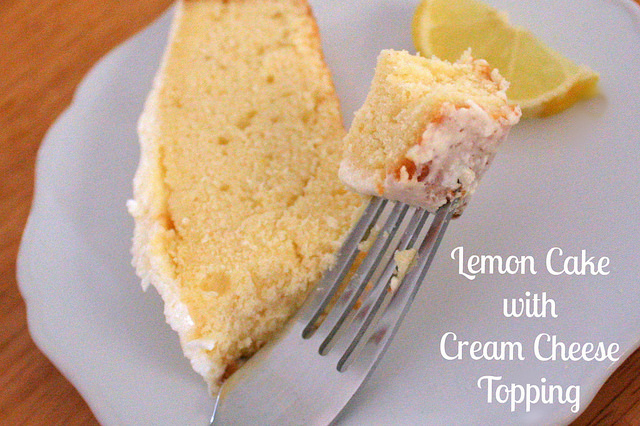 Servings: 8
Prep Time: 10 minutes
Cooking Time: 45 minutes
Ingredients:
1/2 cup of softened butter
1 cup of sugar
2 eggs
2 tbs of lemon juice
1 tbs of grated lemon peel
1-1/2 cups of all-purpose flour
1 tsp of baking powder
1/8 tsp of salt
1/2 cup of milk
Topping:
1/2 cup of confectioner's sugar
1 cup of lemon juice
1 box of cream cheese


This recipe called for a small bundt cake pan, which I didn't have, so I ended up cooking it in a bread pan.

Directions:
1. Preheat the oven to 350 degrees.
2. Combine butter and sugar with a whisk in a large bowl.
3. Add in the eggs, lemon juice, and lemon peel. Mix thoroughly.
4. Mix together the flour, baking powder, and salt in another bowl. Add into creamed mixture.
6. Pour into greased loaf pan.
7. Bake for 45 minutes.
8. While the cake is cooking, using a mixer mix together the confectioner's sugar and lemon juice. Add in cream cheese carefully, until it's mixed well.
9. Remove cake from pan. Allow to cool just a bit and remove cake from pan. Spread the topping over the cake and on the sides. Refrigerate and allow topping to firm up.
10. Remove cake for about 30 minutes before serving.