Blondie?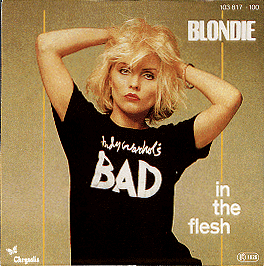 No not that Blondie. More like this…

You know I've heard of the food Blondie, but never really knew what it was. I always kind of thought it was a cookie of some sort. But, for many years I've wondered what the yummy peanut butter bars that I used to get at good old Glenview Elementary way back in the 80's when I was a student there. They were always so yummy with a light chocolate topping. I recently started doing some research and started seeing some recipes that looked and sounded much like what I had looking for. So then I checked out the definition of a blondie.
A blondie is a sweet, rich dessert bar made from flour, brown sugar, butter, eggs, baking powder, and vanilla, which may contain chips or nuts of some sort.
So basically after reading the definition, if you know a brownie, you should know a blondie!
Servings: 12 large bars (I cut mine into small bite size pieces, which made about 40ish)
Prep Time: 25 minutes
Cooking Time: 30 minutes
Ingredients:
Cookie Base
10 tbsp. butter
2 dark brown sugar
1 cup peanut butter
2 eggs
2 tsp. vanilla extract
2 cups flour
1/2 tsp. salt
1 tsp. baking powder
Chocolate Topping
6 tbsp. unsalted butter, softened
1 cup milk chocolate chips
3 tbsp.unsweetened cocoa powder
1/4 tsp. salt
2 cups powdered sugar
3 tbsp. milk
1. Preheat oven to 325 degrees F. Prepare your 9×13-inch pan by spraying with cooking spray or greasing lightly.
2. Over medium heat melt butter and brown sugar in a medium sauce pan until the butter is just melted.
3. Take pan off burner and wait 5 minutes before stirring in peanut butter. Stir until melted and mixed evenly.
4. Put in fridge for 5 minutes to allow it to cool completely before adding in eggs and vanilla extract. If you don't let it cool the eggs will begin to cook, which is not what you want to happen here.
5. In another bowl mix together flour, salt, and baking powder, then slowing add to wet mixture. Stir until it is mixed nicely.
6. Pour the batter on the pan and spread it out evenly. Bake for about 30 minutes. Allow to cool.
7. Melt butter in bowl in the microwave for about 20 seconds. Mix in chocolate chips. Put bowl back in microwave for 40 seconds or so. Be careful not to do it too long. Burnt chocolate = not good! Stir until chocolate is completely melted and mixed evenly with butter.
8. Add in salt and cocoa powder and whisk until mixed thoroughly.
9. Add in powdered sugar until it is mixed to desired consistency.
10. Spread evenly over peanut butter blondies after they have cooled completely.