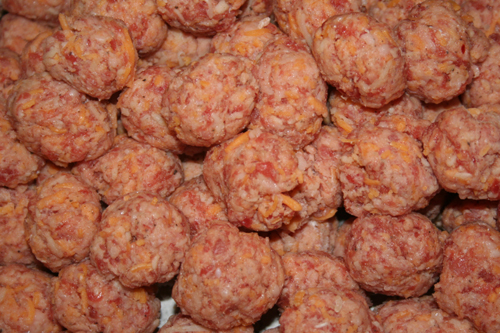 Here they are before being cooked, bagged, or frozen.
This is recipe has been a recipe that my Grandfather started making when my Uncle's wife at the time made them for the family. He tweaked the recipe a bit through the years. We made them every Christmas. I've continued the tradition. They go so quickly so this time I doubled the recipe! 🙂
Servings: 80 (depending on size)
Prep Time: 30 minutes
Cooking Time: 15 minutes
Ingredients:
1 pound of regular sausage
1 pound of HOT sausage
2 cups of Cheddar cheese
2 cups of sharp cheddar cheese
1 1/2 cups of Bisquick
Ziplock bags
Directions:
Kneed all of these things together until it's a uniform mixture. Roll into balls a little smaller than golf ball size. Place a serving into each ziplock bag. I put 10-15 in each. Place them in freezer until your ready to serve. Preheat oven to 375. Cook for about 15 minutes or until golden brown.

Every time I have these at a work function, they're are served COLD. ICK!! I NEVER serve these cold.