Whole Wheat Waffles with Apples & Pecans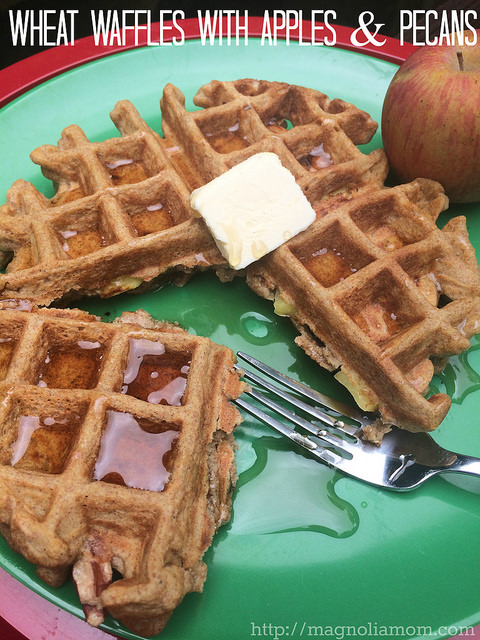 This weeks the kids are back to school. Just can't believe summer is over already. On the first day of school, I usually get up and make the boys breakfast. I've decided for tomorrow, I'm going to make the boys waffles, but with a healthy twist. When I'm on one of my healthy eating kicks, I'll usually just make the normal waffles out of bisquick and I don't eat one. However, this year I want to try whole wheat.

Servings: 4-5 depending on size of waffle iron
Prep Time: 5 minutes
Cooking Time: 3-5 minutes depending on waffle iron
Ingredients:
2 large eggs
1 3/4 cup milk
1/4 cup oil/butter
1 tbs honey
1/2 tsp ground cinnamon
1 tsp vanilla
1/4 tsp baking soda
1 1/2 cups whole-wheat flour
2 teaspoons baking powder
diced apples (optional)
pecan pieces (optional)
syrup
Directions:
1. Flip your waffle iron on.
2. Mix together eggs, milk, oil, honey, cinnamon, and baking soda in a large bowl until mixed well.
3. Add the flour, baking powder, and salt.
4. Whisk until the large lumps are gone, but be careful not to over mix.
5. Spray iron with non-stick spray on top and bottom. Then, pour waffle mix but only enough to cover about 1/2-3/4. Otherwise it will be too full, especially if you plan to add any fruits or nuts.
6. Add in fruits and nuts as desired.
7. Close the iron and make sure you have adjusted the iron to desired heat/crispiness level.
8. Serve with warm with syrup and butter
Whole Wheat Waffles with Apples & Pecans
Author:
Lysha @ Magnolia Mom
Ingredients
2 large eggs
1¾ cup milk
¼ cup oil/butter
1 tbs honey
½ tsp ground cinnamon
1 tsp vanilla
¼ tsp baking soda
1½ cups whole-wheat flour
2 teaspoons baking powder
diced apples (optional)
pecan pieces (optional)
syrup
Instructions
Flip your waffle iron on.
Mix together eggs, milk, oil, honey, cinnamon, and baking soda in a large bowl until mixed well.
Add the flour, baking powder, and salt.
Whisk until the large lumps are gone, but be careful not to over mix.
Spray iron with non-stick spray on top and bottom. Then, pour waffle mix but only enough to cover about ½-3/4. Otherwise it will be too full, especially if you plan to add any fruits or nuts.
Add in fruits and nuts as desired.
Close the iron and make sure you have adjusted the iron to desired heat/crispiness level.
Serve with warm with syrup and butter
~Adapted from 100 Days of Real Food
I'm linking up with: