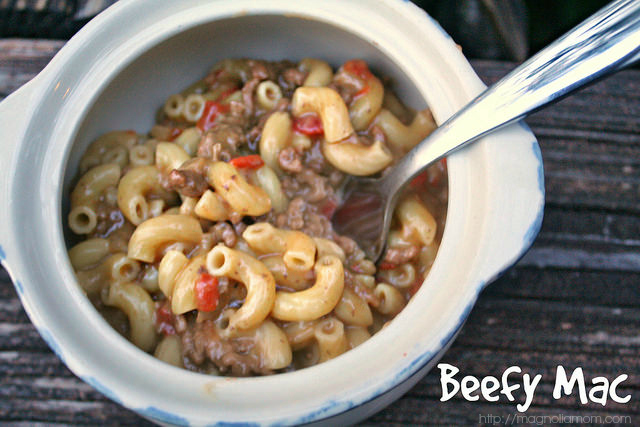 I found this recipe in Sandra Lee's cook book called Sandra Lee's Semi-Homemade Fast Fix Family Favorites that I recently received from Paperback Swap. I found tons of recipes in this book that I want to try. This one was actually supposed to be cooked in the crockpot, but I didn't realize that until the afternoon that I had it scheduled. It easily adapted into a 30 minute meal.
Servings: 4
Prep Time: 5 minutes
Cooking Time: 30 minutes
Ingredients:
12 oz. elbow macaroni pasta
1 1/2 lbs. lean ground beef
1 tbs of minced garlic
1 packet of beef stew seasoning
2 cups of shredded four-cheese blend
1 10.75 oz. can of condensed cheddar cheese soup
1 small onion chopped finely
2 cups of reduced sodium beef broth
1 can of rotel

Directions:
1. Cook pasta for 5-6 minutes until about al dente. Pull off the burner and remove lid.
2. In a large skillet, cook ground beef, garlic, and onions on medium until meat is brown. Make sure to break up with your spatula as it cooks so you don't have huge pieces of hamburger meat.
3. Drain grease carefully.
4. Return pot to stove top, add in stew seasoning, and then beef broth. Stir to ensure there are no clumps of seasoning left.
5. Add in cheese soup mix and rotel. Stir until mixed through.
6. Reduce heat to low. Add in shredded cheese, stir until it's all melted.
7. Allow to cook for about 15 minutes.
8. Add in cooked pasta and cook for about 5 minutes.
9. Remove from burner and allow to cool for about 5 minutes before serving.
~Adapted from Sandra Lee's Semi-Homemade Fast Fix Family Favorites