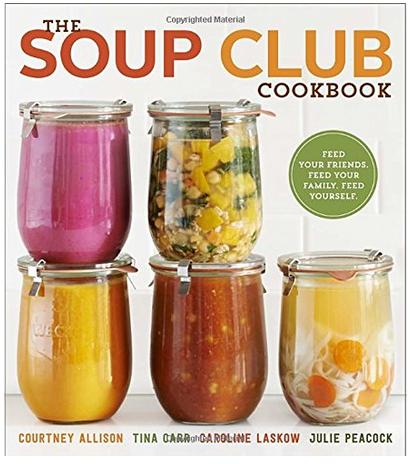 The Soup Club Cookbook
by Courtney Allison, Tina Carr, Caroline Laskow, and Julie Peacock shares the idea of forming soup clubs with friends, coworkers, or neighbors. The idea is that at least 4 people make a schedule for one person from the group to make soup once a month and they make a lot; they make enough to share with their family as well as the other 3 families in the group. What I like about this idea is that there's one night, three times a month that I wouldn't have to cook, but I would still have a nice warm meal to eat. How great is that!
The Potato Cheddar Soup, Chicken Tortilla, and the Winter Minestrone sound right up my alley. You do have to remember that this book is meant to make a LOT of soup, so if you're not making it for 4 total families. This book is "souper" helpful in giving tips for what to deliver with the soup and how to serve it. The Watermelon Gazpacho, Beef Mole Chili, and Italian Wedding Soup have me intrigued. I've just have to give those a try.
This book not only supplies soup recipes. It includes salads, veggies, bread, and other recipes that can be shared along the soup.
I am thankful for Blogging for Books who sent a copy of this book in exchange for my honest review.